The Most Trusted Source to Buy and Sell Used CNC, Fabrication, and Plastics Machinery
AUCTIONS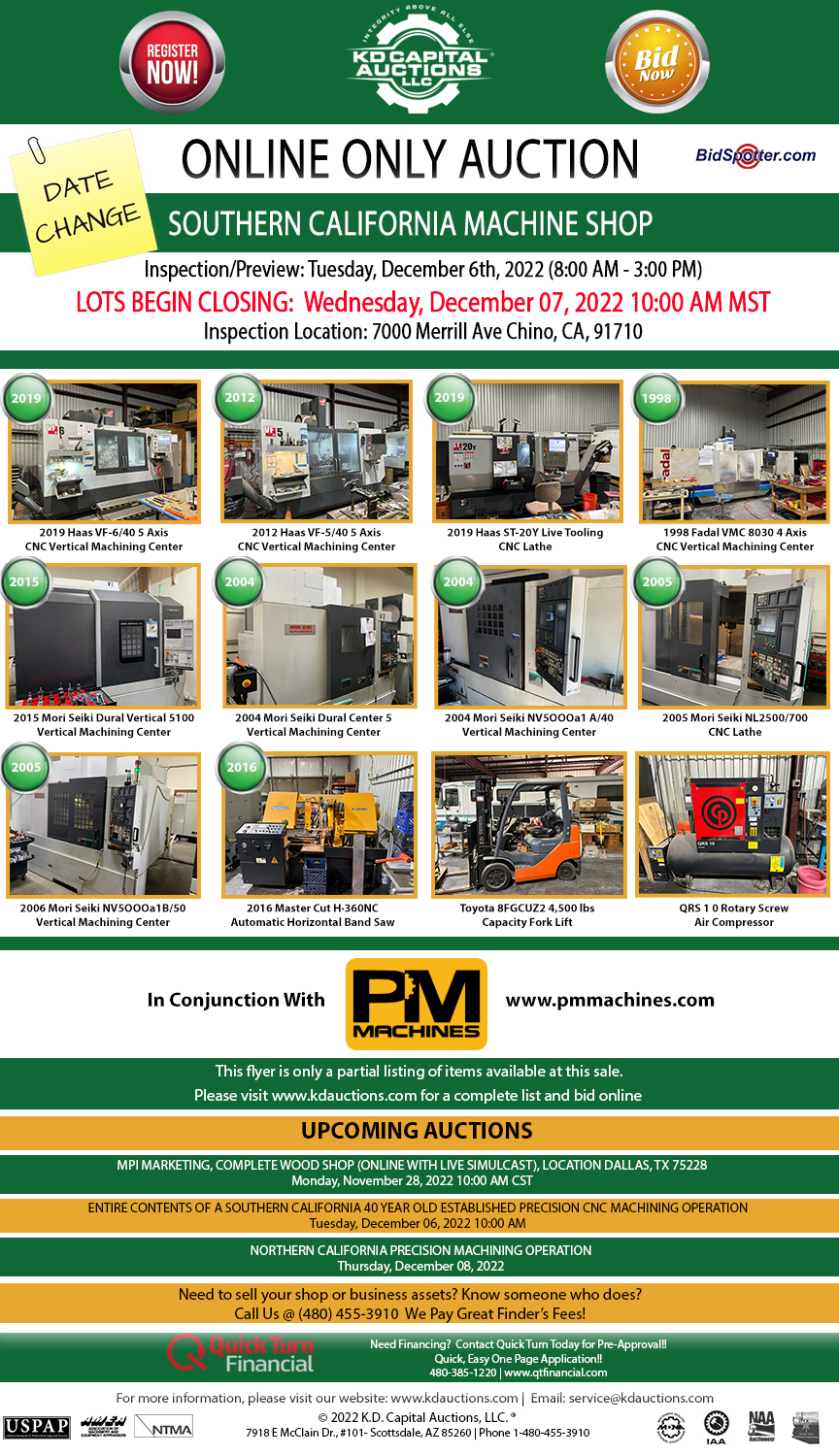 Southern California Machine Shop – Entire Contents
LOTS BEGIN CLOSING: Wednesday, December 07, 2022 | 10:00 AM (MST)
INSPECTION PREVIEW: Tuesday, December 6th, 2022 (8:00 AM – 3:00 PM)
EQUIPMENT LOCATION:7000 Merrill Ave, Chino, CA, 91710

Featured Items: 2019 Haas VF-6/40 5 Axis CNC VMC, 2012 Haas VF-5/40 5 Axis CNC VMC, 2019 Haas ST-20Y Live Tooling CNC Lathe, 1998 Fadal VMC 8030 4 Axis CNC VMC, 2015 Mori Seiki DuraVertical 5100 CNC VMC, 2004 Mori Seiki Dura Center 5 CNC VMC, 2006 Mori Seiki NV5000a1B/50 CNC VMC, 2004 Mori Seiki NV5000a1A/40, 2005 Mori Seiki NL2500/700 CNC Lathe, 2016 Master Cut H-360NC Automatic Band Saw, CAT 40 Toolholders, Material Handling, Workholding, and more!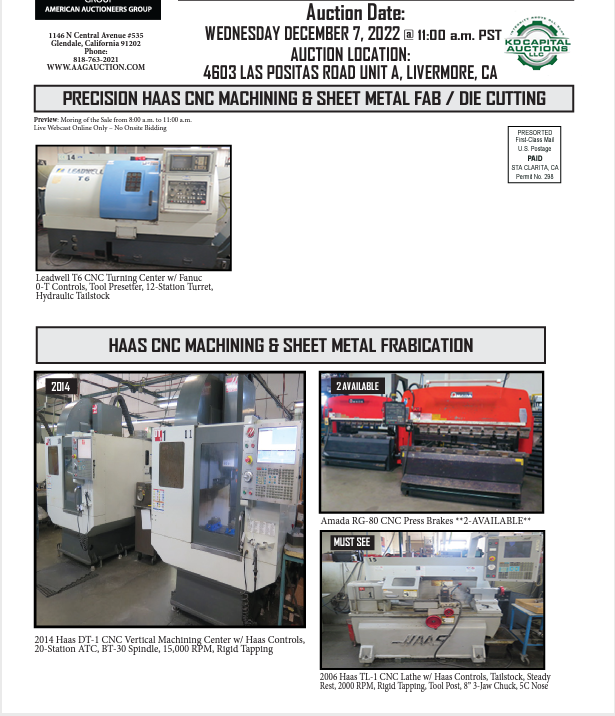 Northern California Precision Machining Operation
LOTS BEGIN CLOSING: Wednesday, December 07, 2022 | 11:00 AM (PST)
INSPECTION PREVIEW: Wednesday, December 07, 2022 (8:00 – 11:00 AM)
EQUIPMENT LOCATION:  4603 Las Positas Rd, Livermore, CA 94551
Featured Items: Haas 2014 DT1 CNC VMC's, Haas TL-1 CNC Lathe, Haas TM-2 CNC VMC, Haas VF-0 CNC VMC's, Leadwell T6 CNC Lathe, Amada RG-80 CNC Press Brakes, RG-25 CNC Press Brake, Auto Sert Insertion Press, Associated Pacific Traveling Column Clicker, Press, Hardinge HLV-H Tool Room Lathe, Hardinge Lathes, Chevy Cargo Vans, GMC Box Trucks, Inspection Tools, CMM, Material, Tooling and Support.
More Information Coming Soon!!!!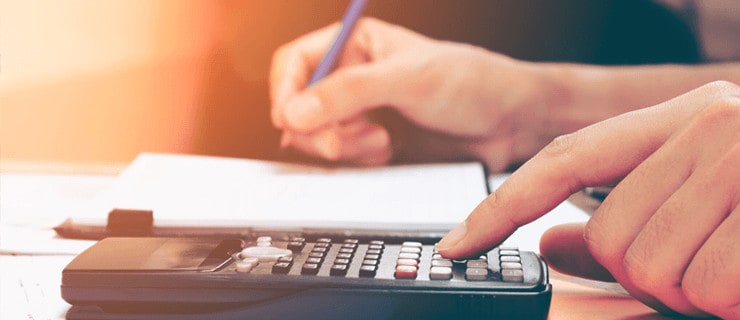 Have a Used CNC Machine for Sale?
KD Capital Equipment is one of the largest stocking dealers of used CNC Machines, Plastic machines, and Fabrication Machinery. We are active cash buyers and will buy single machines or entire facilities.
Please click on the button below to submit your equipment information and one of our staff members will contact you with a cash offer right away!
Sell Your CNC Machines
We Provide the Following Professional Services:
Used CNC Machinery for Sale
Used Plastic Machinery for Sale
Used Fabrication Machinery for Sale
Machinery Purchasing
Remarketing
Appraisals
Auctions
Liquidations
Financing
Trade-Ins